nepaldalitinfo / magazines / [] [Home] []
| | |
| --- | --- |
| Magazines dedicated to Dalits | |
Brief information, sample issues and/or excerpts of articles published in magazines/ journals / Newsletters in the cause of Nepali Dalits are welcome from their authors/ publishers/ editors for wider dissemination through posting them in this section.

Empower Dalit Women of Nepal- Newsletter (May 2005)
(For other issues, please contact EDWON in the address given in this sample issue.)

Chhuwachhut Birodhi Andolanma Mahakavi Devkota (Nepali) by Kishor Vishwakarma discussing the early and proactive role the Great Poet Laxmi Prasad Devkota played in the movement against untouchability.
Source: Antardrishti, a quarterly literary magazine (Nepali) published by Washington DC, USA based International Nepali Literary Society

A Special Issue of INFORMAL Magazine: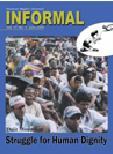 The June 2004 issue of "INFORMAL", a human rights solidarity journal published by Kathmandu based organization Informal Sector Service Center (INSEC) is dedicated to Dalits of Nepal voicing their human rights. The articles in the issue relate to a range of topics as the following:- Internal Discrimination within Dalit and Ways to Overcome It by Hira Vishwakarma (page 5), Relevance of Reservation to Dalit Community by Min Bishwakarma (page 9), Psychosocial Status of Dalits in Nepal by Dr. Niranjan Prasad Upadyay (page 13), Existing Constitutional Innovation for Dalits: Myth or Reality by Tek Tamrakar (page 18), Rationale of Making Untouchability Cases of Government Prosecution by Ratna Bahadur Bagchand (page 28), and Dalits and Their Educational Status by Rachana Rasaili (page 31). The issue also includes Synopsis of CERD Shadow Report (page 36), and a Book Review: Political Sociology of Dalit Assertion (page 43).

Magazine Archives: Selected articles from Nepali Manch, a Nepali vernacular magazine